Due to its lack of natural resources, Taiwan is historically reliant on meeting its domestic energy demand with imports. In 2020, an overwhelming 98% of the energy consumed in Taiwan came from overseas. Thereby, 74% of the imports consisted of either coal or crude oil and petroleum products, with the vast majority of oil being sourced in the Middle East, while coal came mainly from Australia (49%), Indonesia (28%) and Russia (17%). Overall, about 30% of Taiwan's total domestic energy consumption was accounted for by electricity, with more than half (56%) of it being consumed by the industrial sector, making the process of sustainable power generation an integral part of Taiwan's efforts towards "greening" its economy.
Taiwan's Energy and Electricity Mix
Taiwan's current energy and electricity mix poses a number of challenges. First, due to the overreliance on only a few oil and coal suppliers, Taiwan's energy supply chain can be regarded as rather fragile. Particularly the Middle East, with potential conflicts among oil producing nations such as Iran or Saudi Arabia, poses a prospective long-term threat to Taiwan's energy security.
Second, Taiwan's economy is highly dependent on its vital, but power-intensive electronics industry. As the majority of electricity is produced by using either coal (45%) or Liquefied Natural Gas (LNG) (36%), the electronics industry has become one of Taiwan's largest carbon dioxide emitters. Taiwan's Semiconductor Manufacturing Company (TSMC) alone accounts for an estimated 4.8% of the nation's total power consumption, exceeding that of its capital Taipei. The expected increase in electricity demand in the coming years will not only have an unfavourable impact on the environment, but also on the companies themselves, as customers such as Apple require its suppliers to entirely rely on renewable energy.
In response, Taiwan seeks to significantly alter its electricity mix and has therefore selected LNG, which has a lower carbon emission factor than coal or oil, as its designated bridge technology (Figure 1):
By 2025, 50% of Taiwan´s electricity is set to be generated from LNG, with the remaining supply coming from either coal (30%) or renewables (20%).
LNG: A Fragile Bridge to Energy Security?
Whether Taiwan's energy transition is a meaningful step towards energy security can be questioned, as the island nonetheless remains dependent on LNG imports, remaining just as vulnerable to external interruptions as for coal or oil supplies.
With that in mind, Taiwan prefers sealing long-term deals with its suppliers. As of 2021, contracts with Australia, the US, Qatar and Papua New Guinea formally secure more than eight million tonnes of LNG per year. In 2020, however, almost 70% of Taiwan's total LNG imports of more than 18 million tons came from only three suppliers, namely Qatar (28%), Australia (27%) and Russia (14%), still making its sourcing mix susceptible to geopolitical uncertainties.
Qatar, for example, is expected to move closer to the China-Russia-Iran-bloc after signing a ten-year supply contract with China in March 2021, while Australia recently entered the Regional Comprehensive Economic Partnership (RCEP). As RCEP is expected to lower commodity prices among member countries, Taiwan faces the risk of being sidelined in future transactions. Beyond that, Taiwan lacks institutional representation and therefore channels for international cooperation. Not being part of the International Energy Agency, which coordinates "strategic reserve stockpiles", gives Taiwan a significant disadvantage in case of a global supply or price shock.
An additional obstacle is Taiwan's reliance on seaborn supply routes. In 2016, more than 90% of its LNG imports passed through the South China Sea, a route that is potentially vulnerable not only to natural disasters, but also to third-party naval maneuvers and ship blockades. Additionally, LNG from the Middle East, and particularly Qatar, also has to pass two of the most sensitive choke points of naval shipping and energy supply, the Strait of Hormuz and the Strait of Malacca.
The high demand for imports also means that Taiwan has to acquire LNG through the rather flexible spot markets. In this context, China's recent emergence as the world's biggest LNG importer has become a key driver of the evolution of Asian LNG spot prices, which it can now set according to its own market and (foreign) policy preferences. In 2017, a surge in Chinese purchases caused a doubling of the LNG benchmark price in Asia. Months later, China's unusual counter-seasonal shortage contributed to another unexpected record level of Asian LNG spot prices.
China's growth might also come along with increased capacity in terms of institutional rule setting. This may eventually lead to scenarios where China seeks to promote LNG to be traded in Chinese Yuan (RMB) or exerts political influence over offshore industrial production bases and their inputs, thus increasing the volatility of global markets.
New Mix – New Challenges
As Taiwan's energy transition increasingly relies on LNG imports, the geopolitical and economic uncertainties mentioned above become even more pressing. In order to mitigate those risks, Taiwan is massively investing in the construction of domestic gas terminals, thus expanding both its receiving and storage capacities.
Currently, the Chinese Petroleum Company (CPC) operates two terminals, one in the South (Yongan) and one in Central Taiwan (Taichung). Until 2025, Taiwan's government seeks to add terminals to the North (Taoyuan) and to the East (Keelung), while also expanding the Taichung site. The plans, however, face serious obstacles, mainly caused by environmental concerns and civil opposition.
In 2018, the proposal of the Taiwan Power Company (Taipower) for the terminal extension in Taichung was halted at the so-called "Environmental Impact Assessment (EIA)" stage after activists highlighted the project's repercussions on endangered Taiwanese humpback dolphins. Only after Taipower submitted mitigation strategies did the Environmental Protection Administration (EPA) eventually consent. At the same time, two gas-fired generators, despite passing the EIA in early 2020, are yet to be approved by the Taichung City Government. In April 2021, a port facility necessary for safely offloading LNG was rejected by the EPA for the time being, again with reference to the Taiwanese dolphins. Considering that the construction of the generators takes at least three years, and even more for terminals, it is rather questionable whether Taipower's plans to start importing LNG from 2023 can be sustained.
Likewise, the CPC's new Taoyuan terminal has evoked fierce opposition from local activists, as its location lies within a sensitive marine environment, habitat of numerous rare species, including a unique type of algal reef. The already delayed USD 2 billion project may even face additional obstacles, as opponents surpassed with ease the legally required 289,667 signatures for a petition demanding the relocation of the project. Once all the signatures have been certified, a referendum could be scheduled for 28th August 2021. Further delay or even relocation of the terminal, which is deemed crucial for reaching Taiwan's green energy goals, would cause a tremendous power gap affecting not only 10 million people in Taipei and northern cities, but also the Hsinchu Science Park, Taiwan's knowledge hub and crucial element to its world-class chip industry.
What About Renewables?
However, conflicts of interest between green(er) energy and wildlife protection are not exclusive to LNG terminals. As highlighted in Table 1, by far the greatest share (89%) of newly developed renewable energy capacity accounts for either solar (photovoltaic) or wind energy: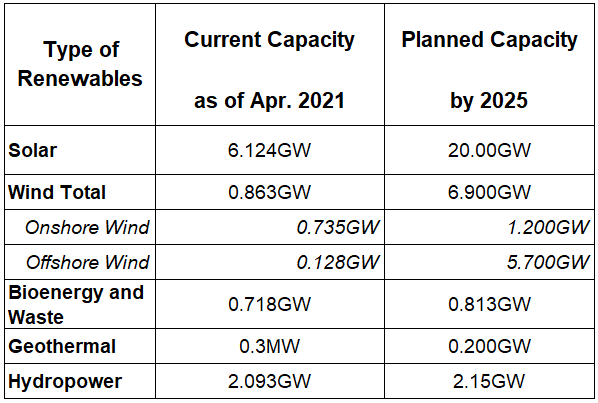 Especially the planned expansion of offshore windparks is running into opposition, as the designated location once again collides with the Taiwanese humpback dolphin's habitat. While some opponents demand sufficient mitigation strategies to limit the negative impact on the dolphins, others want to see the projects terminated completely.
Criticism is also arising in regard to solar energy, Taiwan's current and future most important green energy source. The massive capacity roll-out in the next four years will take up more than 20.000 hectares of the island's already scarce land, potentially causing damage to its biodiversity. Due to the lack of land as well as supply chain disruptions caused by the pandemic, Taiwan just recently fell short by almost 0.7GW of its 2020 target for solar capacity.
Sustainable Green Energy Transition – Can the EU Help?
Taiwan's ambitious energy transition faces a variety of challenges, ranging from safeguarding domestic energy security to balancing green(er) energy development and environmental protection. Ultimately, Taiwan's democratic processes will rule over the future of LNG terminals, offshore windparks and the expansion of solar energy. In the meantime, the priority should be to avoid a relapse to nuclear energy, oil, or coal by effectively mitigating the potential harmful side effects of Taiwan's new energy mix. While some of the measures, such as a ban on dolphin threatening gill nets that would take "pressure" from the endangered dolphin population, may be taken by Taiwan's government itself, others demand international cooperation. In this respect, the EU could evolve as a valuable partner. Through its European Green Deal and the associated pledge to reach carbon neutrality by 2050, the EU and Taiwan share convergent objectives, including the expansion of green and renewable energy. In order to reach its ambitious goals, the EU plans to double renewable generating capacity from 32% in 2020 to 65% by 2030.
The similar development paths of the EU and Taiwan open the door for potential collaboration in the field of renewable energy. With regards to its solar expansion, for instance, Taiwan requires technological breakthroughs in terms of efficiency, which would result in significant savings of land area and therefore account for at least part of the activists´ concerns. Currently, average solar modules reach an efficiency rate between 15% and 22%, but researchers in both Taiwan and the EU are working on increasing those numbers.
In 2019, an EU funded project developed leading-edge perovskite / silicon (PK/Si) tandem solar cells with a then world-record power conversion rate of 25.2%. In December 2020, a research team in Berlin published a paper on a low-cost tandem solar cell that achieved 29.15% efficiency, while the EU's HIPERION project aims to bring a novel technology with an efficiency of over 29% closer to the market.
With financial commitments from the public and private sector and an enhanced EU-Taiwan research cooperation, innovative developments can be actively initiated and facilitated. Such a partnership may turn out to be a win-win-win scenario. European companies offering solutions to Taiwan's green energy dilemma would not only enter one of the world's fastest-growing solar markets and a highly advanced and mature ecosystem for semiconductors, which are an integral part of the new tandem cells, they would also feed in into the EU´s Green Deal and reaching its energy targets.
Overall, Taiwan's green energy endeavour entails plenty of cooperation and business opportunities for European companies, ranging from the development of offshore wind farms, where local companies still "lack the necessary technology, capital, and licensed experts for maintenance", to participating in the island´s massive solar expansion. When seizing these opportunities, European firms should act in a responsible way, seeking to reconcile commercial interests, green energy development, and environmental protection. After all, the business risks associated with a potential civic backslash due to a non-sustainable green energy rollout are simply too high to ignore — the case of the LNG terminal and the referendum in August may serve as a cautionary tale.
Beyond 2025: Joint Agenda Setting for a Green Economy
In addition to potential cooperation in the pursuit of Taiwan´s 2025 green energy goals, the EU and Taiwan may also deepen their engagement at the overarching policy level. Unlike the EU or other actors in the region, such as China, Japan or South Korea, Taiwan has so far neither announced an official policy for the development of renewables beyond 2025, nor a comprehensive strategy for reaching a carbon neutral economy, thus drawing criticism from environmental groups for "not doing enough to fight climate change". The government's proposal to expand offshore wind capacity by an additional 15GW between 2026 and 2035, as well as the fact that Taiwan just recently has started to assess how it can achieve zero greenhouse gas emissions by 2050, indicate the government's efforts in catching up with this "international trend"
As Taiwan is beginning to draft new long-term strategies, valuable experience and input can be drawn from European policy makers and companies, aiming at closely aligning Taiwan's policies with the EU's Green Deal. Coherent policy approaches towards green energy and decarbonisation of the economy not only create an even greater potential for future cooperation between Taiwan and the EU, they are ultimately the only meaningful way in tackling the global challenge of climate change. Therefore, the EU should proactively offer its support to Taiwan in developing concrete, feasible, and coherent policies that can help Taiwan to advance its efforts towards reaching a Green Economy — even beyond 2025.
Author: Manuel Widmann, Junior Researcher
Photo Credits: 品璉 江, CC BY 2.0, via Wikimedia Commons